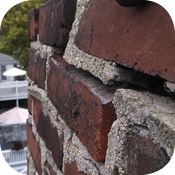 Read more about our repair services for chimney caps, liners, masonry, smoke chambers and water damage.
Watch Marblehead Chimney on YouTube.
Whether it's a video of a start to finish chimney sweep or how we handle all types of repairs and inspections you can find it all here. Subscribe to our YouTube channel.

Find me on A&E's Flipping Boston. Season 3, Episode 4, show title "Trouble and Strife". You'll see me briefly advising Peter on what to do with a fireplace. As a fan of the show, it was a lot of fun meeting Peter and Dave. They were both great guys and it was a pleasure to give them my advice. See for yourself. 

Winners of Angie's List Super Service Award.
Angie's List considers a number of factors to determine Super Service Award Winners, and only the top 5% of providers per category in each market receive the award. The award honors excellence among service providers who maintain a superior service record.
NOW ACCEPTING VISA AND MASTERCARD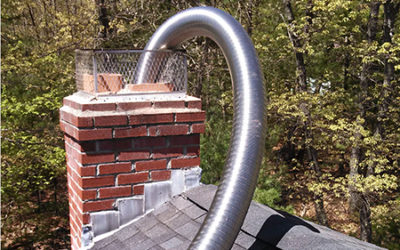 What is a liner, and why do I need one? That's a common question I hear. Briefly, a liner is placed within a chimney to guide the noxious and caustic by-products of combustion out of your home as smoothly as possible without interacting with the brickwork of the...
Kevin A.
"Marblehead Chimney worked around my work schedule, showed up exactly at the agreed time and took great care in keeping my home clean while doing a very detailed cleaning. Pictures were taken — before and after service — with key issues documented."
-Kevin A., Marblehead, MA
Meg O.
"Outstanding service! I've already recommended Marblehead Chimney to my neighbors and will continue to share about their professionalism and thoroughness."
-Meg O., Swampscott, MA
Scott S.
"If we'd had Marblehead Chimney engaged from the beginning, we could have saved a lot of money on avoided repairs … David is a consummate professional and identified a number of problems that should have been caught much earlier…Don't risk your family's safety — use David each and every time."
-Scott S., Swampscott, MA
"Awesome!  Dave assessed the chimney in need of repairs and cleaning, gave an accurate quote and returned to perform the repairs with all supplies needed.  He photographed the work and explained exactly the work that was done.  I found his estimate to be reasonable and accurate.  I highly recommend Marblehead Chimney."
-Michele M., Danvers, MA
Robert T.
"David was very professional. Returns calls in a timely manner. Answers any and all questions. He's honest, upfront, on time and extremely easy to work with. I had no problems with his work and craftsmanship. His prices are more than fair. He would be my first recommendation to anyone looking for chimney work."
Robert T., Middleton, MA